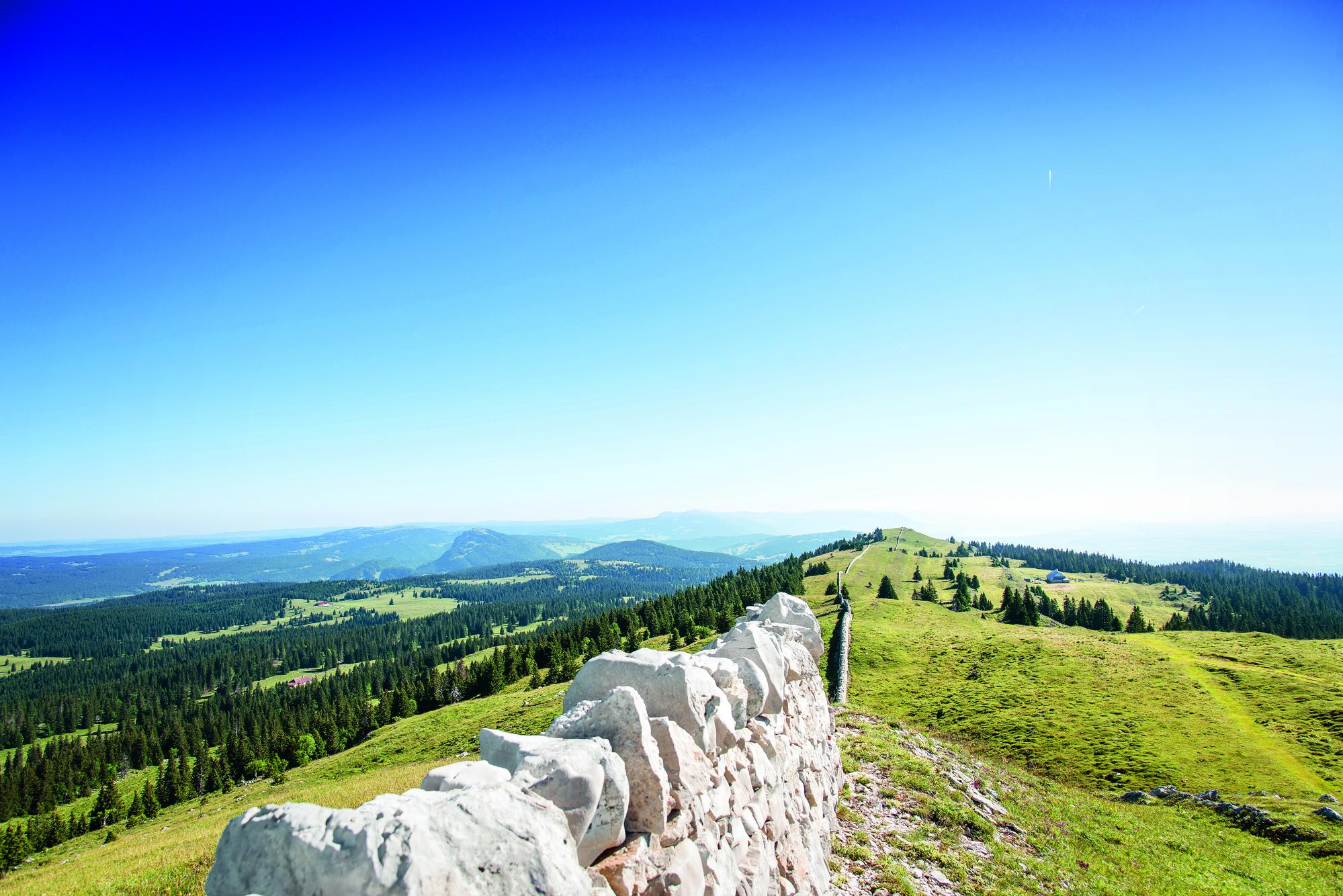 Chemin des Crêtes du Jura - 005
The Jura Crest Trail links Zurich and Genève in a sweeping arc. Running through two language regions, the long trail has extensive views and offers discovery of a varied landscape. A respite from everyday hustle and bustle and mass tourism.
Not far from the Swiss-French border, the trail leads through the splendid Vaud Jura. The trees and rocks here could tell many a tale of smuggling. Old metal crafts and the railway are the focus in Vallorbe.

Typical Jura: first a river, its spring in a nearby grotto, then a hike along a mountain with wonderful views and lastly two lakes with no visible outlets. So characteristic of the Vallée de Joux, cradle of many world-renowned luxury watches.

The undoubted highlight of this tour through extensive meadowlands is the Mont Tendre, the highest point on the Swiss Jura. The mountain affords views over Canton Vaud and Lac Léman, on clear days extending to the Alps and the blue Vosges.

The trail leads through parkland-like landscape with scattered alpine huts and a lacework of kilometre-long dry stone walling, partly through a nature reserve established in 1972. It's worth making a short stop to the ruins of an ancient monastery.

A bleak rock bastion and the lush Lac Léman shores: a pair of contrasts on this tour. After climbing to the top of La Dôle near the national border, the trail leads through forests to vineyards and Nyon, a small town in a superb location.
Town

Sainte-Croix
Distance

310 km
Duration

No information
Difference in height

5489 Metres
Difficulty

Medium