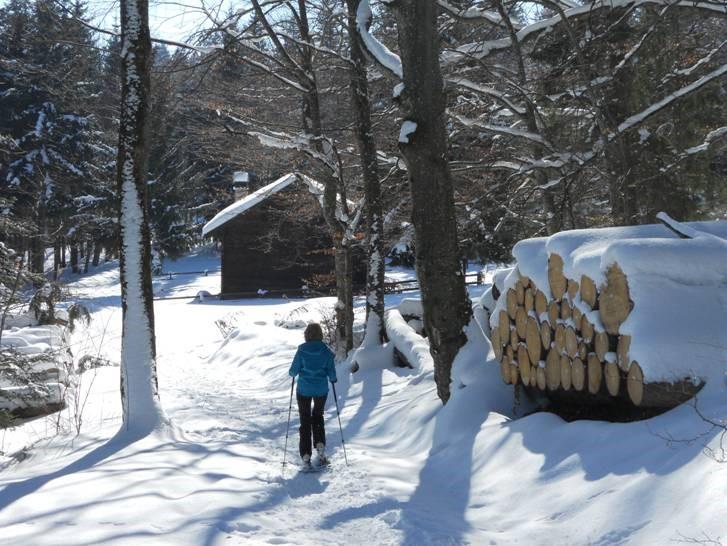 Parcours du Mont-Pèlerin - 457
At an altitude of 1,080 m and perched on the hills above Lavaux, a UNESCO world heritage site, Mont-Pèlerin is a spectacular vantage point offering a wealth of stunning views all along the trail.
Ten minutes from the town by funicular or car, the start of the Mont-Pèlerin route is located above the Chemin de la Maison Jean, and takes you through the forest to the Mivy plateau. After a climb to the Chalet de la Moille, your efforts will be rewarded by the view of the Fribourg pre-alps.
As you finish the circuit, you'll benefit from a sweeping view of the whole of western Switzerland, Rochers de Naye and Les Diablerets, Dents de Morcles, Mont Vélan, Grammont and beyond that, Lake Geneva. In fine weather, you can even catch a glimpse of Grand Combin, the second highest summit in French-speaking Switzerland.
On your return to the station of the little Mont-Pèlerin funicular, you can either choose to visit the terrace of the Hôtel Mirador Resort & Spa*****sup and soak up the stunning views or take a ride on the Vevey-Mont-Pèlerin funicular through idyllic scenery in the heart of the Lavaux vineyards to Vevey.
Practical information

Trail signs:

The route is marked with Swiss Snow Shoe signs.

Direction of signs:

The route is only marked in an anti-clockwise direction: Baumaroche – Mivy – La Moille – Baumaroche.
Town

Mont-Pèlerin
Distance

6.8 km
Duration

No information
Difference in height

326 Metres
Difficulty

Medium