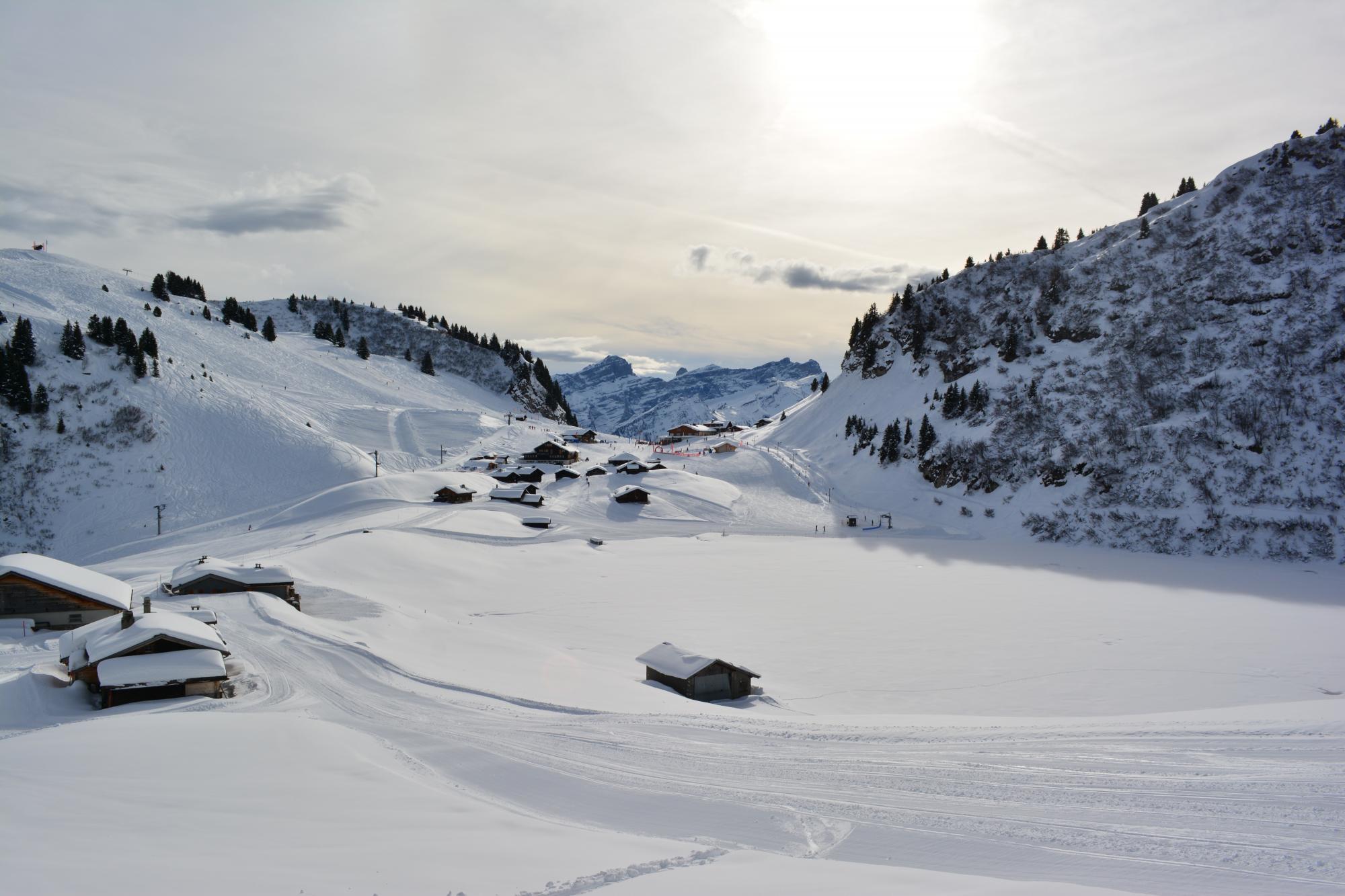 Parcours Bretaye–Lac des Chavonnes - 481
A magnificent high-altitude route starting in Bretaye, with views of Mont Blanc and the Vaud Alps. Snowshoe trekkers can also explore scenery that features tranquil Alpine lakes, broad snow-covered mountain pastures, forests, clearings and hamlets.
The famous cogwheel railway runs from Villars to the Bretaye terminus, where a magnificent view of Mont Blanc, the Dents du Midi and all of the Vaud Alps awaits snowshoe trekkers. You cross the hamlet of Bretaye with its charming chalets. Snow-covered Lake Bretaye is to your left. On this section, you have superb views of Grand Chamossaire – the highest of the Villars peaks at 2,112 meters – and its neighbour, the Petit Chamossaire (2,034 m).
Then the route continues towards Lake Chavonnes, set amid rocky cliffs and forests. Legend has it that there is treasure buried in the lake, guarded by the Monster of Lake Chavonnes. Depending on the light cast by the moon or the sun, the white diamonds still sparkle on the bottom of the lake. In actual fact, this effect is probably caused by rock encrusted with pyrite, a shiny mineral. The restaurant on the lake shore is an ideal spot for a break.
The trail plunges into the forest here, following the left shore of the lake. Above the lake, it climbs through forest clearings towards Vy Boveyre and then on to Conche. The trail passes close by the Conche-Mi Laouissalet chair lift that connects this area with Les Diablerets. This is the highest point of the tour. To complete the circle, you traverse meadowland and then a small, sparse forest to reach the starting point. The train runs from Bretaye back to Villars.
Town

Villars-sur-Ollon
Distance

5 km
Duration

No information
Difference in height

145 Metres
Difficulty

Medium