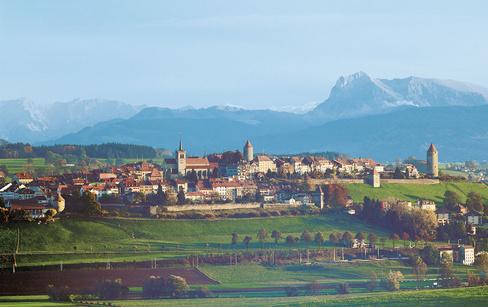 Follow St. James' way through la Glâne (S)
From Fribourg, follow in the footsteps of the pilgrims of St-Jacques de Compostelle to Romont, the Swiss capital of stained glass windows and glass. Here, in the Glâne region, you'll find out how this town made a name for itself in this delicate craft.
Due to its many richly decorated churches, the delightful city of Romont protected by its ramparts became the stained glass capital. A notable example is the Notre-Dame de l'Épine chapel found on this very route. Plus, the recently modernised Vitromusée housed in the mediaeval castle of Romont traces the history and techniques of this know-how through an interactive exhibition.

A few minutes from Romont, Mézières Castle houses an exhibition of another delicate and little known art: wallpaper. The rare pieces on display and specialist temporary exhibitions are well worth a visit. For a breath of fresh air after these cultural discoveries, stop off at Gibloux. Surrounded by a network of footpaths, the tower affords stunning views of La Gruyère region, from April to October.

Return to Fribourg via a magical spiritual location, Hauterive Abbey. In a lush green setting, on the banks of the Sarine, the sacred place welcomes visitors respectful of the monastic silence.
Town

Fribourg
Distance

70 km
Duration

No information
Difference in height

1275 Metres
Difficulty

No information