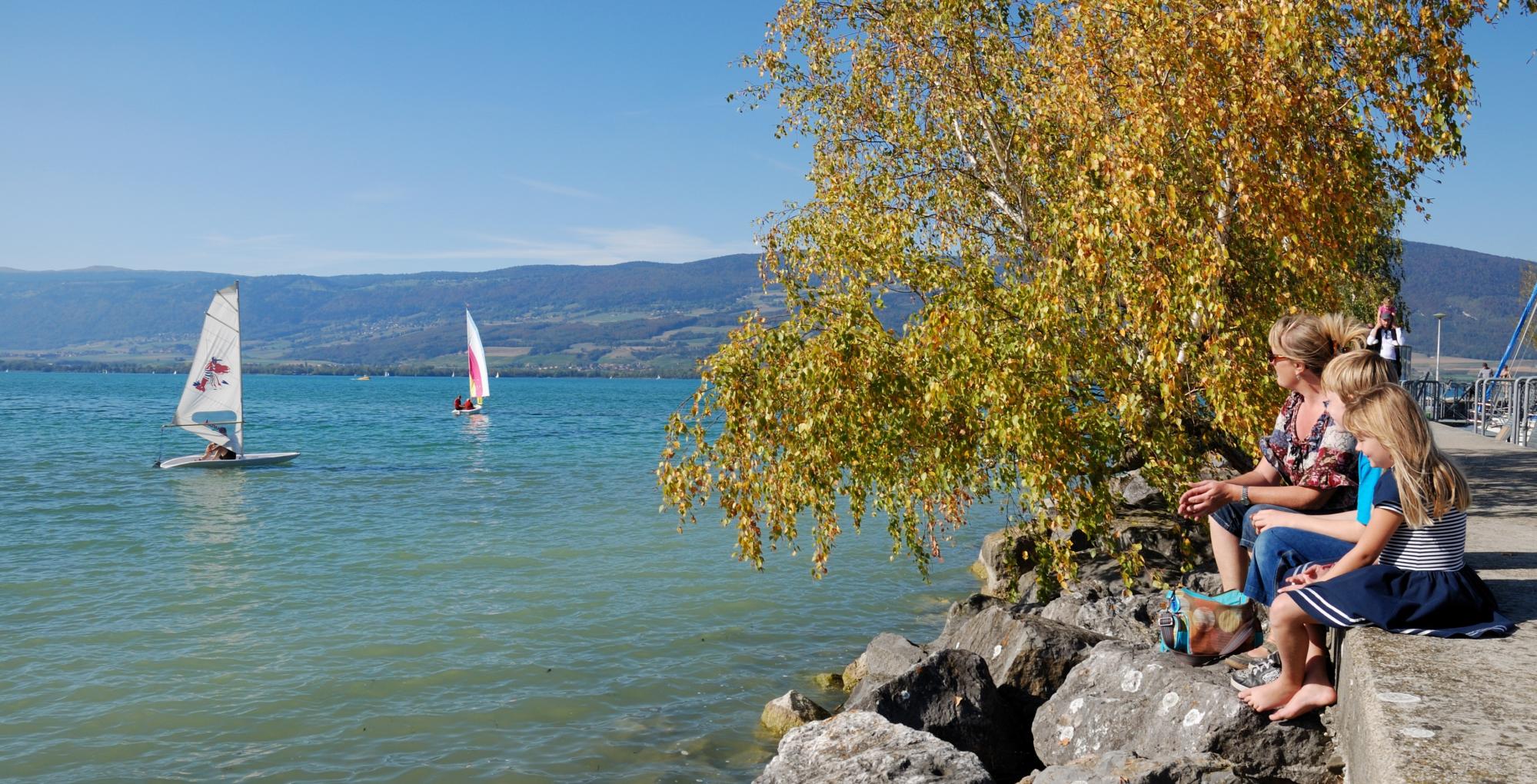 Chemin des grèves du Lac de Neuchâtel
An excursion into the La Grande Cariçaie nature reserve offers a particularly special experience. One of the routes starts in Yvonand and leads along the southeast shore of Lac de Neuchâtel as far as Estavayer-le-Lac. A divine route through marshlands and lakeside woodlands.
The route runs mostly through wooded lakeside marshland, which is home to a wealth of fascinating fauna and flora. You pass lush vegetation made up of lakeside woodland, moorland and wetland. The region is well-known as a spawning ground for amphibians as well as a reserve for waterfowl and a migratory birds.

Along the way you'll enjoy a primeval, peaceful area that never fails to impress with its unspoilt natural beauty. The scenery then changes to an open, lush-green swathe of land with views over a picturesque region. You pass fields of tall flowers, meadows in bloom and inspiring moorland areas. There is also a vantage point where you can take a break.

In Cheyres you return to civilization for a short time and at the harbour you catch sight of the imposing Lac de Neuchâtel. The route continues through captivating natural surroundings to Estavayer-le-Lac. A pretty little town with an attractive, historic town wall. But the spaciously arranged harbour and well-cared-for boat station are also well worth stopping for.
Practical information

Barrier-free travel / public transport:
The journey to Yvonand, Pré Hôtel de Ville is made by bus from Yverdon-les-Bains, however, the timetable for low-floor buses is irregular and the buses can only transport people with manual wheelchairs. Journeys from Monday to Friday require notification 48 hours in advance, by telephone at +41(0)32 729 96 00. A bus is available on Friday night (22:00 - 01:00) and at weekends (Sat. 08:00 - 12:30, 14:00 - 20:00, 22:00 - 01:00, Sun, and public holidays 09:00 - 12:30, 14:00 - 19:30) but must be ordered at least one hour before travelling. This can be arranged daily from 06:30 - 22:30 at Freephone 0800 60 30 60 (in Switzerland only).
Town

Yvonand
Distance

11 km
Duration

2h35
Difference in height

45 Metres
Difficulty

No information