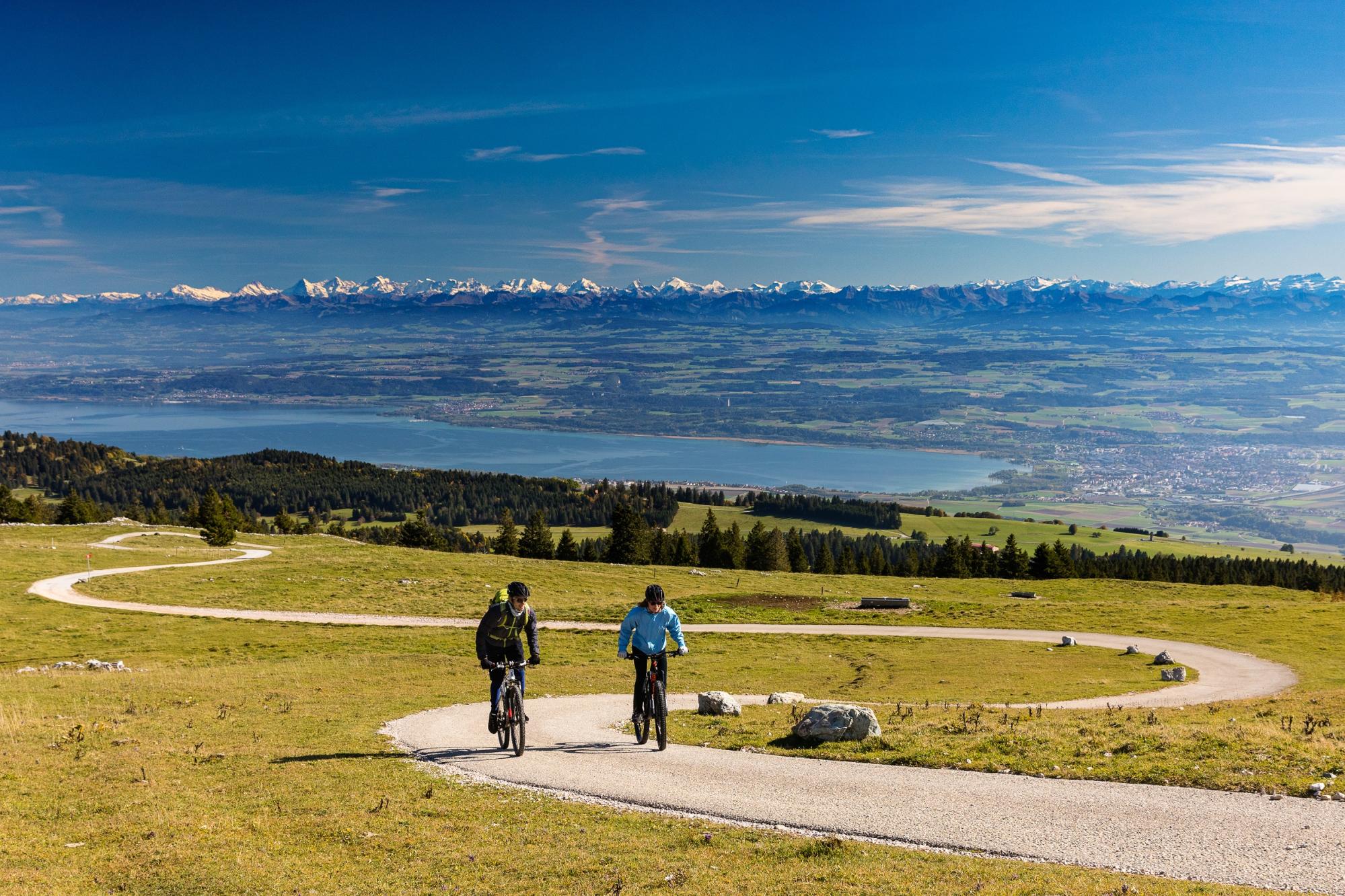 Sainte-Croix–Mont de la Mayaz–Chasseron–Les Cluds–Sainte-Croix

This route takes you up to the Chasseron, which boasts one of the most spectacular panoramic views of the Canton of Vaud. From the top of this natural terrace, mountain bikers can enjoy views across the sweeping Swiss Plateau, Lake Neuchâtel and Lake Geneva as well as more than 250 kilometres of Alpine peaks.
From the start in Sainte-Croix, the global capital of music boxes, the route climbs to the Col des Etroits and the hamlet of Les Praises. The trail then leads towards Les Auges and the Mont de la Mayaz Chalet. Continue downhill on an unpaved road through the forest towards Dénériaz-Dessous and then uphill along a brook to Dénériaz-Dessus. The climb across the pasture towards Crêt de la neige is strenuous, but at the top you will be treated to magnificent views over the unspoilt area around Vallon des Dénériaz.

The singletrack takes you to the Alpine hut at La Grandsonnaz-Dessus, where you can start the climb to the Chasseron, the route's highest point at 1,607 metres above sea level. Two information panels, one close to the triangulation station and the other next to the Hotel du Chasseron, outline the peaks visible from this vantage point. Beneath the hotel, the route passes near Pierre de la Paix, which is known for its energetic properties.

The singletrack then continues to Les Avattes and Les Cluds via a few technical sections in the forest. From Les Cluds, the route follows a singletrack for several kilometres towards Les Replans. Along the way, near Bullet, mountain bikers can see the lookout at Grand'Vy. The last part of the route connects Les Replans via Les Petites-Roches and Le Platon with the Sainte-Croix railway station.
Town

Sainte-Croix
Distance

34 km
Duration

5h00
Difference in height

1010 Metres
Difficulty

Medium