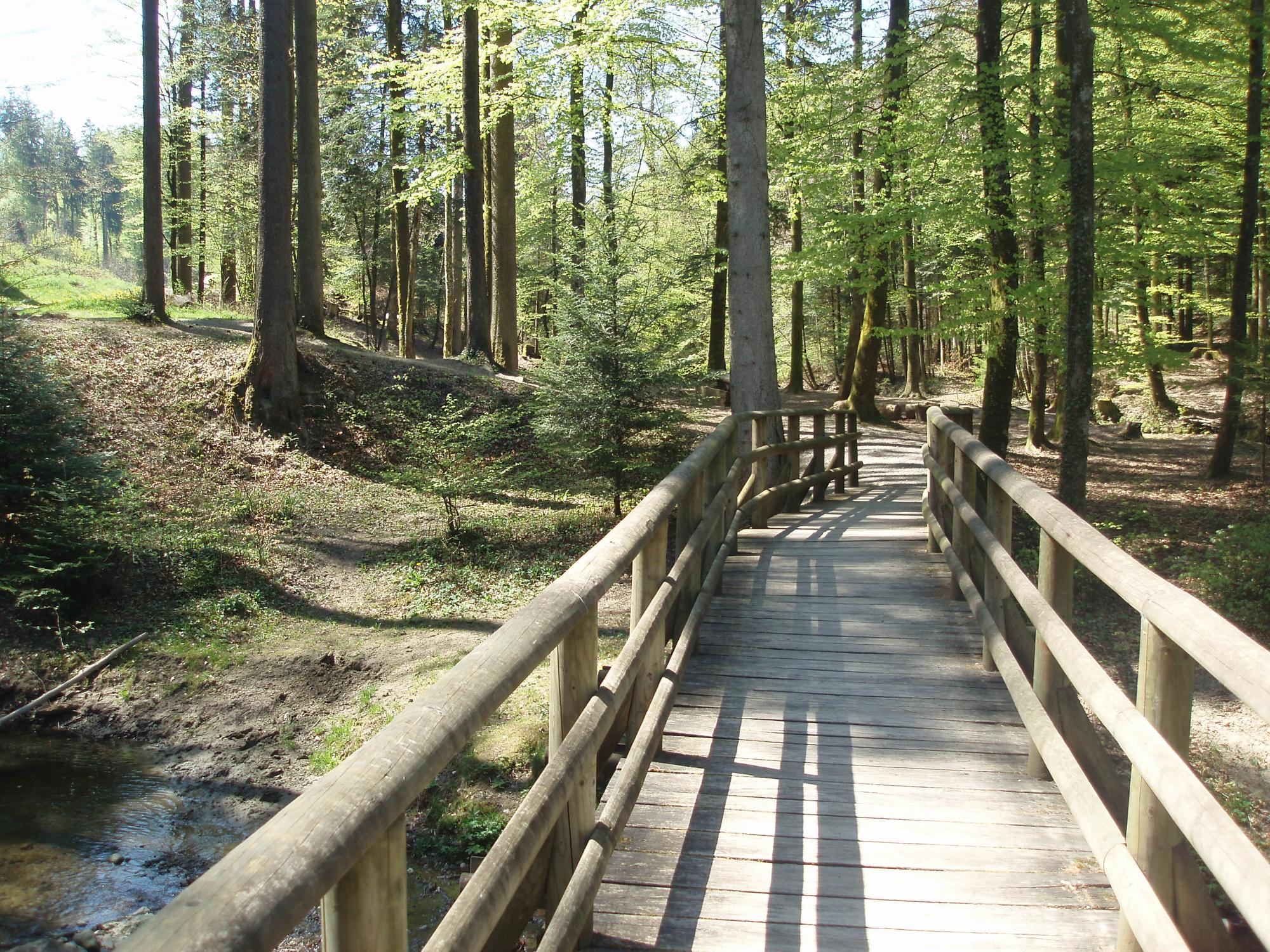 A beautiful hiking tour in the forest along the Talent River. It is particularly well suited for families and can be done any time of the year. It offers a wide variety of flora and fauna as well as impressive structures, such as Montheron Abbey, old mills and waterwheels.
Echallens extends on both sides of the Talent River on a plateau of the central Gros de Vaud district. The area in the Vaud midlands is also known as the region's breadbasket. The "Maison du Ble et du Pain" in the centre of Echallens highlights the history of wheat and bread. The heart of the village also comprises some lovely mansions and patrician homes from the 17th to the 19th century. The walk starts on the other side of the train station, near the tennis courts, where it enters the forest.

The trail continuously follows the river after which the hike has been named. The source of the Talent River, a tributary to the Orbe, is in the Bois du Jorat forest area. The Talent and the Orbe merge into the Thielle River which flows into Lake Neuchâtel. The upper and middle parts of the Talent are largely natural or near-natural, including in the Bois de la Commune forest where the trail leads to the Malapalud farming village. The kids will enjoy the wide variety of flora and fauna along the river, especially since native animals are often spotted here. The second part of this flat and easy hike runs through the Bois aux Allemandes via Cugy to Montheron.

The distance of just under 10 km allows various side trips to nearby places of interest. Channels and waterwheels, for example, are found in Echallens, Assens, Bretigny and Cugy. Those in Echallens are now used for trout farming. In Assens, a restaurant is located next to an 18th century mill. Some of the buildings close to the route are also of interest, such as the Montheron Abbey, one of the last examples of Cistercian architecture in the Canton Vaud. The Moulin de Cugy is an old, completely renovated mill whose original condition was preserved. It houses a restaurant and an art gallery. Art is also the focus of the "L'Escpace Culturel Assens" museum. All towns and villages along the route are easy to reach with public transportation and therefore ideal for a visit.
Practical information

Arrival / return travel Montheron, La Râpe
A bus on reservation runs between Montheron, La Râpe and Cugy VD. Between Cugy VD and Lausanne there is a regular bus.
Town

Echallens
Distance

9 km
Duration

2h30
Difference in height

215 Metres
Difficulty

Easy