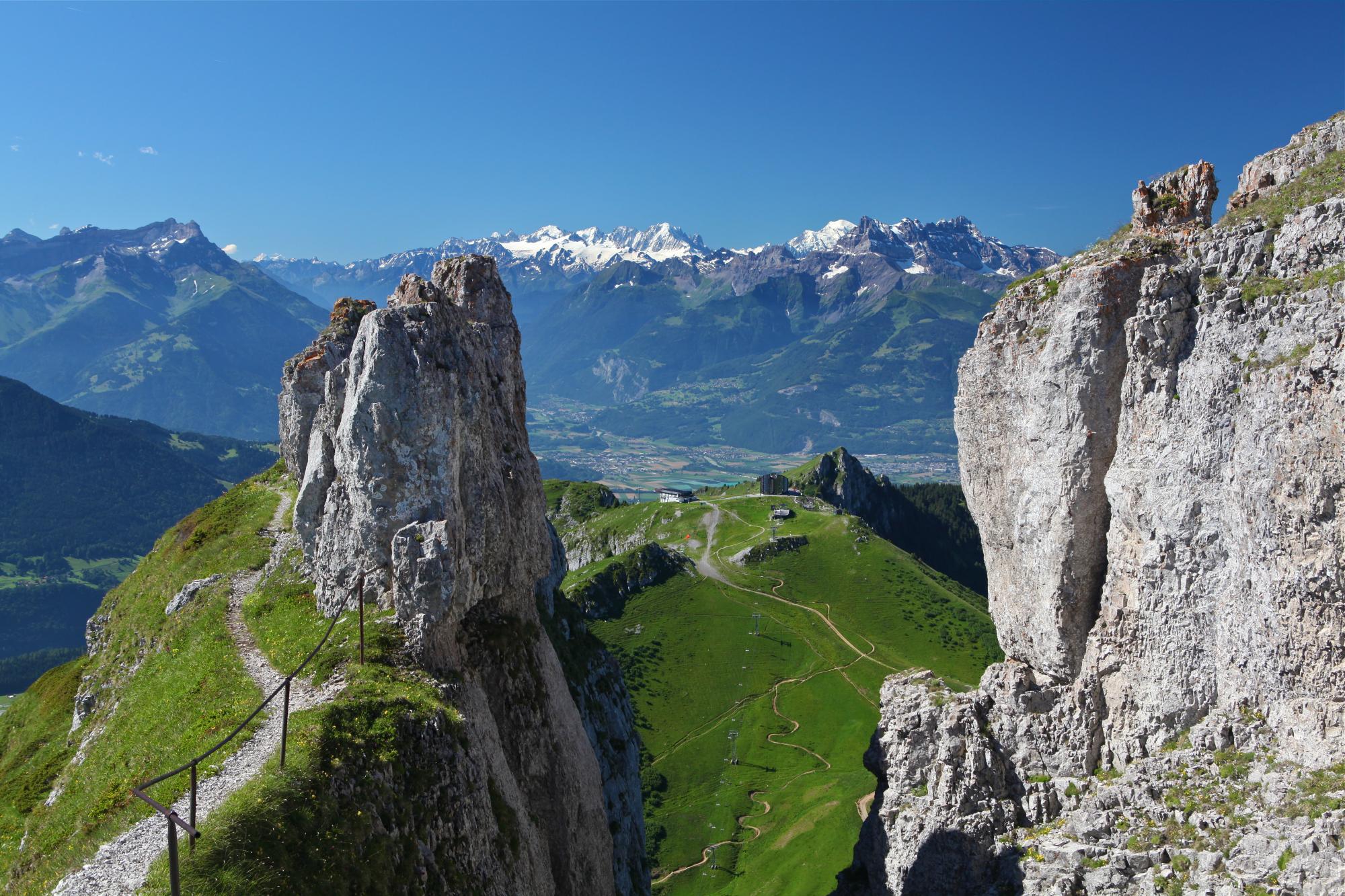 Tour de Famelon Trail - 111
This speleologically interesting hike leads along the south slope of Mont d'Or and the lapies formations between Pierre du Moëllé and Tour de Famelon. It offers a magnificient view of Vallée des Ormonts, the Diablerets Massif and the Alps of the Lake Geneva Region and of Savoy.
This magnificent walk crosses an extremely beautiful region, one of which is the spectacular lapies formation between Pierre du Moëllé and Tour de Famelon. The lapies were formed by dripping rain drops over centuries and confer a lunar look to the region.

The rocks of Tour de Famelon, whose singular relief earned it the name «Alpine Sphinx», are sea and lake sediments which, on solidification, have acquired a distinctive grey-red hue found nowhere else in the vicinity.
Practical information

Signalization: Take the path named «Pierre du Moëllé» located about 80 metres below Restaurant de la Poste in the centre of the village at La Comballaz. The path starts in a forest and leads to a broad path, which you follow to reach Pierre du Moëllé. From there, follow the direction «Le Fer» and, once you are there, follow the signs «La Badause». When you reach the La Baudause quarry, go along the road leading up to Pierre du Moëllé for about 1 km until you hit the first path which leads you back to La Comballaz.

Hint: Snacks possible at Pierre du Moëllé and at Le Fer.

Consideration: Area with livestock guardian dogs: On the mountain pasture Monterel Tour d'Ai you may encounter livestock guardian dogs from mid-May till the end of September. Respecting certain rules helps avoid problems.
Town

Le Sépey
Distance

15 km
Duration

4h55
Difference in height

892 Metres
Difficulty

Medium