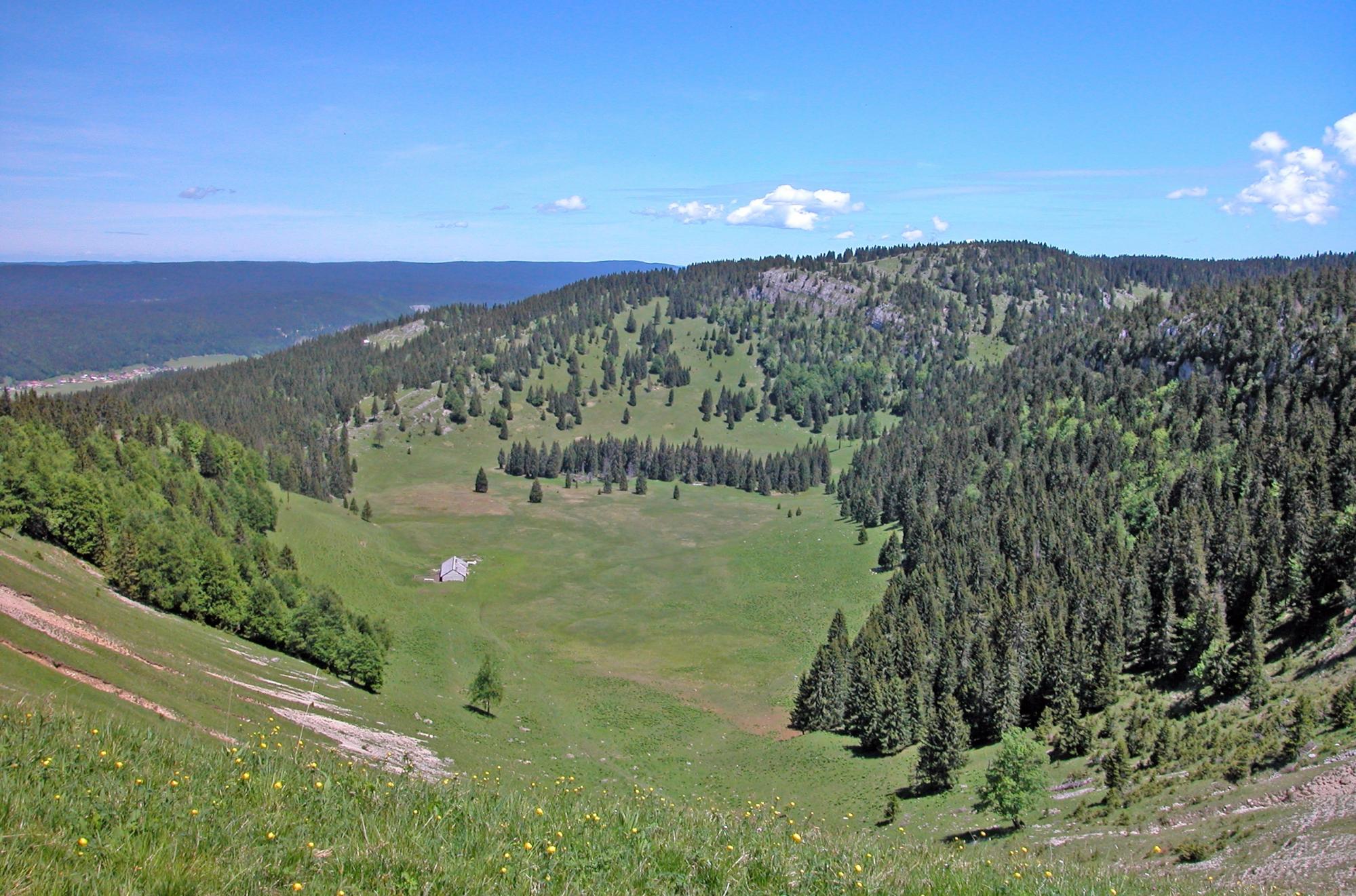 Walk in Le Noirmont - 125
A pretty hike leading to the heart of the beautiful Noir-mont Massif, from which there is a splendid view. This itinerary lets hikers discover some geological aspects of the Lake Geneva Jura park, as well as its rich and varied fauna and flora.
"In the heart of the Lake Geneva Jura Park is a hike ap-pealing not only to fans of large expanses and pastures but also to those who appreciate solitary valleys. Everything in this site combines to offer an unforgettable moment of escape in a varied and colourful landscape. The paths are densely covered with grass in an infinite range of green, the traditional dry stone walls fit snugly along the rounded hills and the pastures are strewn with strangely shaped pebbles. Creux de Croue (a kind of small mineral cirque) provides a welcome interlude. It dominates a sheep pen and a peat bog offering an extraordinarily rich variety of colour shades in autumn." Text by Pierre Corajoud, "Terres de contrastes".
Practical information

Signalization: La Cure - Les Coppettes - Le Noirmont – Le Noirmont des Français - Creux du Croue - Le Croue - Combe aux Tassons - L'Arzière - Les Coppettes - La Cure.

Protected area: Caution: the entire walk is set in a federally protected fauna and flora zone (dogs on lead only).

Consideration: Area with livestock guardian dogs: On the mountain pasture Creux du Croue you may encounter livestock guardian dogs from mid-May till the end of September. Respecting certain rules helps avoid problems.
Town

St-Cergue
Distance

14 km
Duration

4h00
Difference in height

1321 Metres
Difficulty

Medium