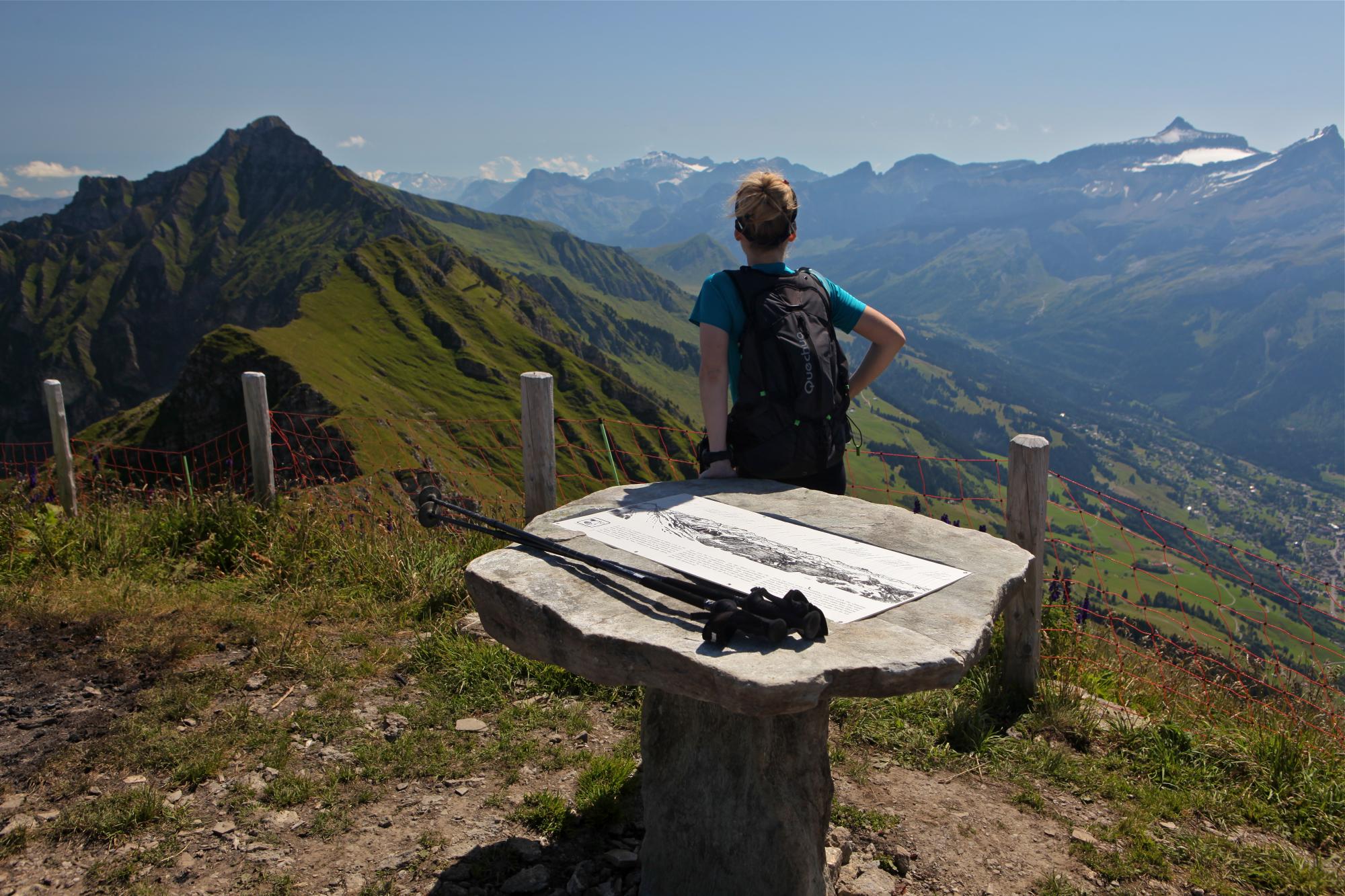 At the Top of the Chaine du Chaussy - 126
This hike follows the crest up to Arpille and is almost vertically above the hamlet of Ayerne. After a steep ascent up to La Para, at an altitude of 2,540 m, a 360 degree panorama unfolds before hikers who may also chance on ibex and marmots, which use this path too.
How pleasant it is to start this hike with the Isenau cable car, which dates of 1953. The little red cabins are one of the village's most characteristic features. Take your time visiting the authentic village of Les Diablerets and its typical wooden chalets. Walking towards the Chalet d'Isenau, you will see cows, horses and donkeys along the way. You will probably think about the winter snow covering the ski slopes which, for once, you ascend, rather than descend.

A stop is recommended at the traditional chalet of Isenau, where milk, butter, cheese and tomme are produced. Be sure to taste Etivaz AOC, a typical regional cheese, which is only made up here in the Alpine chalets. Leave the pastures resounding with cowbells and follow a small uphill path. Look around you attentively as there may be ibex and marmots nearby. Throughout your hike up to Arpille, you will be above Ayerne, a hamlet with old chalets evoking memories of the past.

Continue your hike along a few little ponds which serve as watering places for the cattle. You will then pass next to a weather station and arrive at an avalanche barrier which protects the area for the safety of ski fans. From here, after putting your back into it once more along a ridge, you will reach the peak, where your efforts will be rewarded with a 360 degree panorama featuring the Mont-Blanc. Return trip via the same itinerary.
Practical information

Signalization: Starting from Isenau, go in the direction of Chalet d'Isenau, then Arpille and finally La Para.

Precipitous area of risk: Careful! crest path from the Chalet of Isenau to Arpille.
Town

Les Diablerets
Distance

12 km
Duration

4h50
Difference in height

1938 Metres
Difficulty

Hard