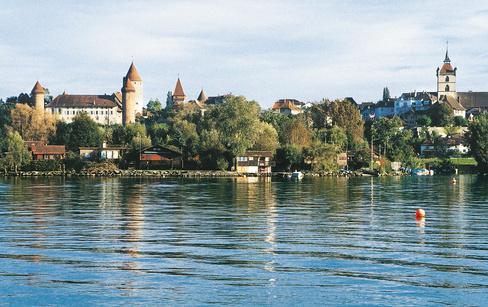 Payerne and its lakes - 471
This marked itinerary crosses the beautiful Broye valley and leads along its lakes. Visitors will discover historical sites such as Payerne and its Romanesque abbey church, Avenches and its Roman vestiges, not to mention the medieval town Estavayer-le-Lac.
Starting out from Payerne, we cycle in the direction of Corcelles-près-Payerne and make for Avenches up hill and down dale. All along the way we can admire the Broye valley with the Fribourg Alps as a backdrop. Lake Morat and Lake Neuchâtel are discernible in the distance. We cross Avenches and cycle to Salavaux along the shore of Lake Morat.

Then we climb up towards the vintners' villages of Vully, cross Constantine and Montmagny before coming back down to Chabrey. Splendid panoramic views of Lake Morat and Lake Neuchâtel open up before us.

We continue in the direction of the medieval town Estavayer-le-Lac by following the southern shore of Lake Neuchâtel. Once we arrive in Estavayer-le-Lac, we cycle back up to Payerne via agricultural paths.
Practical information

From Payerne follow the logo indicated Nr. 34 to Corcelles-près-Payerne. Go on the route Nr. 481 via Avenches to Chabrey and the route Nr. 5 to Estavayer-le-Lac. Then go on the route Nr. 34 on the way back to Payerne.
Town
Distance

55 km
Duration

No information
Difference in height

877 Metres
Difficulty

Medium