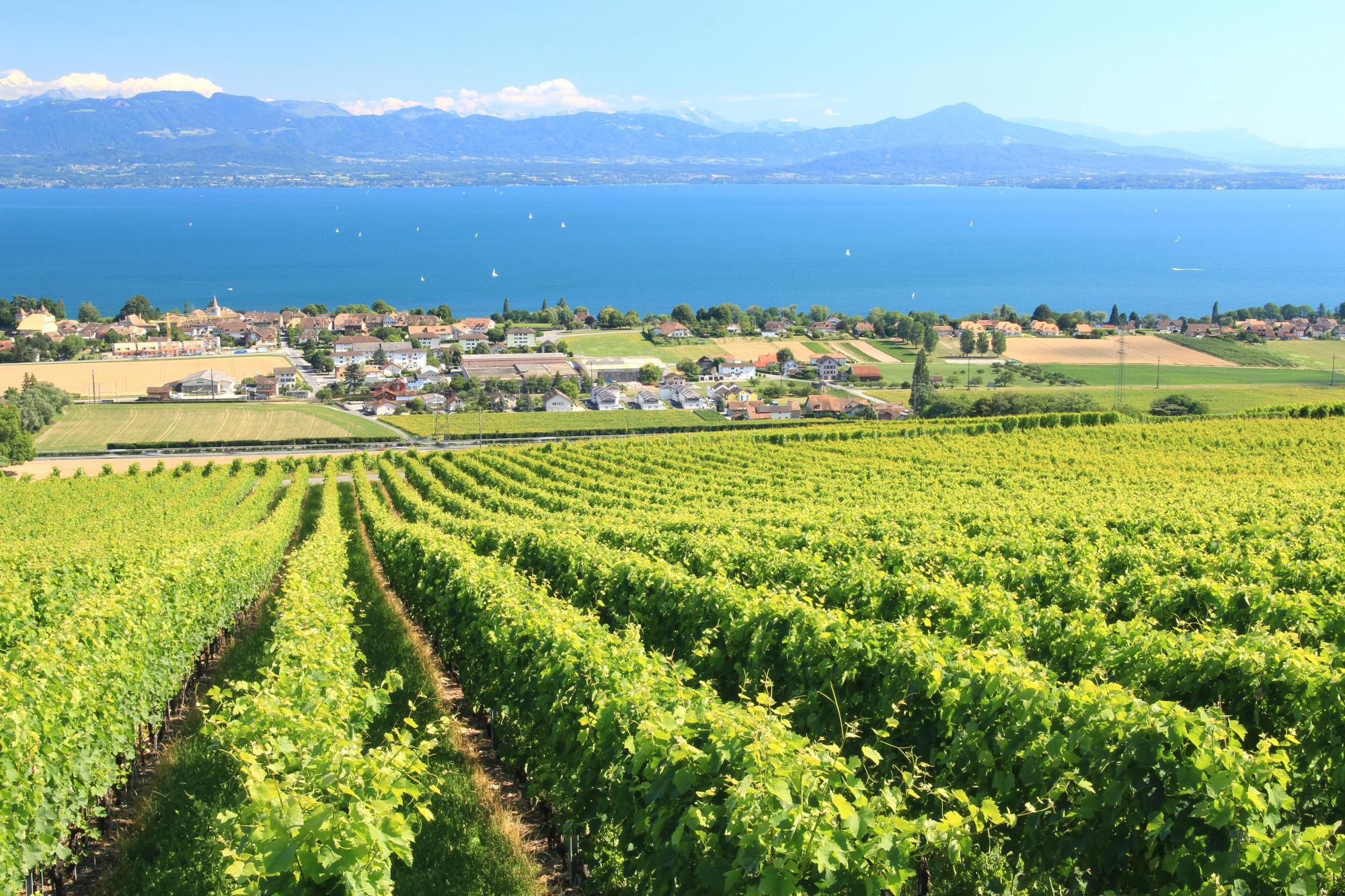 Route du vignoble de La Côte - 488
La Côte, the largest winegrowing area in the Vaud, is a great place to explore by bike. Surrounded by vineyards and with views of Lake Geneva, the Alps and Mont Blanc, the tour is an exceptional experience. Winegrowers and farmers, crafts people and artists all open their doors to present the local cultural heritage.
The La Côte winegrowing area, the largest in the Vaud region with over 1900 hectares, is located on the west side of Lake Geneva. This is the home of Chasselas wine. Along the tour with views of Lake Geneva, Mont Blanc and the Alps, the bikers can learn more about fine wines from the local winegrowers. Morges with its medieval look, the old harbour and the busy pedestrian zone is the ideal starting point for this tour. Morges castle houses several museums and is a great place to visit.

Another majestic castle towers over Vufflens-le-Château. Built in 1420 and situated in the middle of the vineyards, it is considered to be one of the foremost castles in French-speaking Switzerland. Only the courtyard is open to visitors because the castle is privately owned. The bikers will cross a number of winegrowing villages between Denens and Féchy, with Aubonne being the largest. The small town with its patrician homes sits on the edge of a plateau above the river of the same name. On the north side is Aubonne Castle from the 11th century with a baroque palace, a circular tower, an arcade court and a courtroom. Those who prefer learning more about the history of work in a vineyard will visit the Winegrowers Museum in Mont-sur-Rolle.

Coming up next are the winegrowing villages of Tartegnin, Gilly and Bursins. The latter has a Cluny site which is part of the great cultural route of Europe. Luins is known for Malakoffs, a deep-fried regional cheese specialty. Once the bikers have passed the winegrowing villages of Coinsins and Duillier, they arrive at the last stop: Nyon with its arcades and the castle. The lovely small town is located on the shores of Lake Geneva, surrounded by vineyards. With its numerous cultural events and museums it is a perfect place to end the tour.
Practical information

From Nyon go on the route No 1 to Perroy, then on the route No 63 to Lavigny, then follow the siganlisation to Berolle, then go on the route No 50 to Bassins and then on the route No 7 back to Nyon.

Careful: between Nyon and Rolle, main road very busy during peak hours.
Careful: between Berolle and Genolier, high risk of black ice in winter.
Town

Nyon
Distance

35 km
Duration

No information
Difference in height

440 Metres
Difficulty

Medium