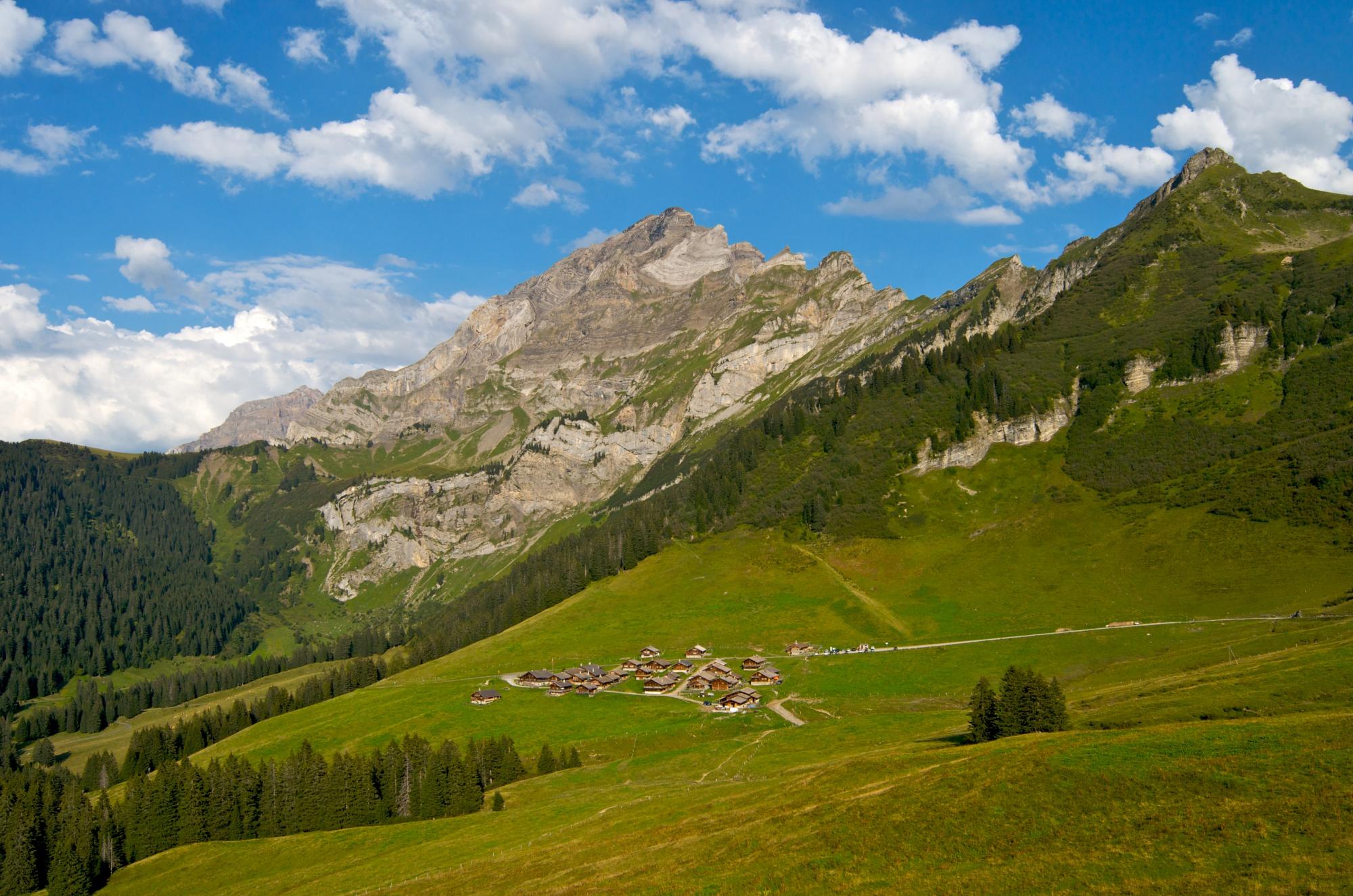 Alpes vaudoises–Pays de Fribourg - 059
From the busy Rhonetal into the craggy limestone Vaud Alps. Over passes to the jet set in Gstaad. The Lac de la Gruyère and old towns of Fribourg and Murten are tempting places to stop. Leisurely finale in Grosse Moos vegetable country to Erlach.
From Bex, where salt is still mined, perspiring up through the old mountain village of Gryon and past Villars' chalet mansions to Alpine pastures on the Col de la Croix. Craggy limestone cliffs rise from scree slopes to the icy Diablerets summit. Over the Col du Pillon, built by prisoners in 1883, and along the Saane to Gstaad, holiday haunt of the international jet set. Saanen seems more down to earth.

Abländschen-Jaun, another pass makes demands on the legs. After the steep spikes of the Gastlosen, the route rolls easily down to Charmey, a large municipality with many mountain farms and on to Broc, bliss for chocolate lovers. Wonderful water despite the dam walls: Lac de Montsalvens and ten-times bigger Lac de la Gruyère. We're in the Gruyère region, home of the cheese of the same name and delicious double cream, the landscape now marked by rolling hills and cattle pastures. The Saane flows around narrow bends carved deep in the sandstone cliffs, aiming for the tradition-steeped cantonal capital of Fribourg. Gothic houses and the cathedral give the old town its character.

Along the Schiffenensee, over quiet, gently rolling countryside to the Murtensee lake with Mont Vully. History comes to life in medieval Murten where you can climb the battlements. The town's speciality is fried perch. On the impressive bike bridge over the Broye canal into Grosse Moos vegetable country. The Bielersee with Erlach Castle soon comes into sight.
Town
Distance

185 km
Duration

No information
Difference in height

0 Metres
Difficulty

Medium